The 2,246 fetal remains found among the belongings of a deceased Illinois abortion doctor have been transported back to Indiana, where they had been aborted between 2000 and 2002.
"We are going to continue this matter to determine as best we can exactly what happened here," Indiana Attorney General Curtis Hill said at a press conference on Friday, Sept. 20, 2019, in Indianapolis, according to the Indiana Government website. "But in the meantime, I can tell you that we are going to bring our babies home and make sure they are treated with the proper dignity and respect deserving of anyone."
Dr. Ulrich Klopfer died on Sept. 3. The gruesome remains were discovered by his widow and her sister when they were sorting through the deceased's belongings at their home in Crete, Illinois, on Sept. 12.
Klopfer's widow told her attorney, who informed the Will County Coroner's office, who, in turn, informed the Attorney's Office and the Sheriff's Office. The coroner's office took possession of the remains.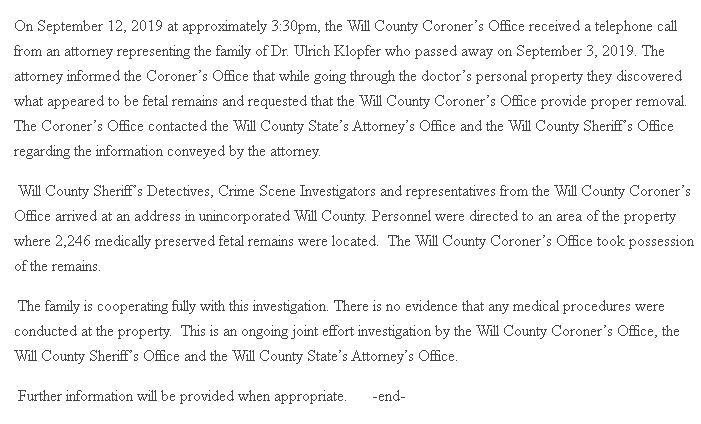 After an initial investigation and after scrutinizing the administration of Klopfer's three abandoned Indiana clinics in Fort Wayne, South Bend, and Gary, it was established that the fetuses must have been aborted in those clinics over the period 2000-2002.
"This investigation has been a team effort involving multiple offices and agencies since the day it began, and it remains a team effort as we proceed forward," Hill said on Facebook. "Our priority throughout this process is to give proper respect to the remains of these unborn children and to the women and families associated with them." He continued: "We are still working through the decision-making process in regard to the ultimate disposition of these remains, and we will continue to proceed with appropriate care and consideration at each step of the way. For now, we can simply let everyone know that these remains are back home in Indiana."
The fetuses have been transported to St. Joseph County, Indiana, for safekeeping on Wednesday and remain there till the Attorney's Office has figured out what to do next.
Klopfer Performed Abortions On a 10-Year-Old and a 13-Year-Old
Klopfer testified during a hearing triggered by a complaint filed by the Indiana Attorney General's Office. He admitted performing an abortion on a 10-year-old girl who was raped by her uncle.
He said he let the girl go home with her parents, who were aware of the rape but did not want the uncle prosecuted.
Several members of the Indiana Medical Licensing Board brought it up in the final discussion before they took Klopfer's license in 2016, reported the South Bend Tribune.
Besides the 10-year-old, the board found that Klopfer failed to report a second abortion on a girl under the age of 14. Klopfer originally stopped performing abortions in Fort Wayne in 2014 when he was unable to meet the county's laws, and the last of his three clinics closed in 2015.
The St. Joseph County Prosecutor's Office brought a misdemeanor charge against Klopfer in 2014 for allegedly failing to properly report an abortion performed on a 13-year-old who was raped.
The charge was eventually dismissed by prosecutors. Klopfer agreed to pay fees and other court costs, perform 24 hours of community service, and not commit a crime for a year.
Epoch Times reporter Zachary Stieber contributed to this report